Thursday, August 13, 2015
Aeris Gainsborough Burial Prints Now Available!
I got our prints in today! You can order yours on Storenvy! http://adella.storenvy.com !!
Follow me on Patreon! http://www.patreon.com/adella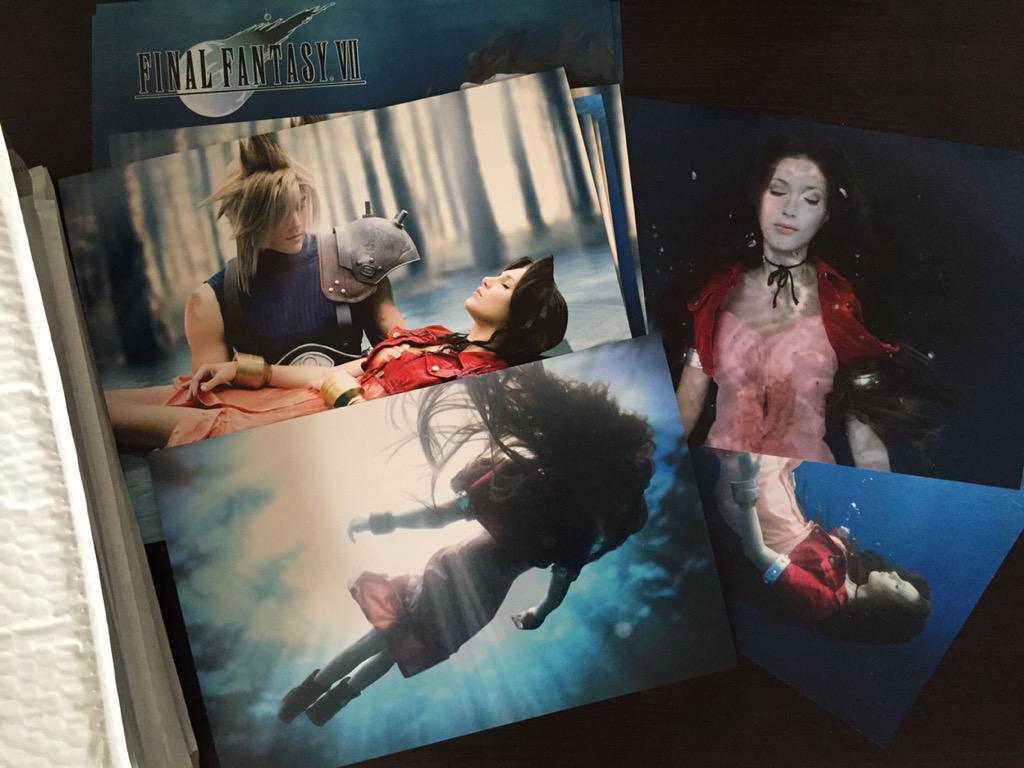 Monday, August 03, 2015
Aeris Gainsborough Burial Scene
Cloud lays Aeris to rest. This was probably one of the most moving scenes for a lot of gamers who grew up playing RPGs. With the announcement of the remake, I found new inspiration to not only replay Final Fantasy 7, but to rekindle my love of cosplaying as this character.
Credits:
Photography - Jan-Michael Losada http://www.jan-michaellosada.com
Cloud - Wes Johnson of Smosh Games
Aeris - Adella (Sarah Quillian)
Costume Designer - Adella (Sarah Quillian)
Set Costumer - Vanessa Walton
Photo Assistant - Kristen Carr
Photo Assistant/Grip - Garrett Scott
BTS Videography - Landon Donoho
Special Thanks:
Alessandro Schiassi, Luca Pisanu, and Lamberto Azzariti, for helping me push out of my comfort zone with this and really produce something special and beautiful!
Check back every day this week for a new photo from this series!
I have just launched a Patreon page for those who wish to get involved in my work! http://www.patreon.com/adella
Prints will be available in my Storenvy later in the week!
Sunday, March 30, 2014
Bulma and Baby Trunks Hanami
After a long 3 year hiatus, filled with moving around, getting married, getting settled, and having a baby... I'm back! Certainly I attempted to do a pregnant cosplay, but I learned quickly in my first trimester while sewing a costume piece for one of the contestants on SyFy's Heroes of Cosplay... that sewing and pregnancy were not fun! It seemed like being pregnant took almost an entire year of my life! When they say it's 9 months, they're lying. It's more like 10 months. It's taken me around six months to get back down in weight as well, and I'm still about 10lbs off from being able to wear my tightest pre-pregnancy jeans, but I will get there. In the meantime, I had planned on cosplaying as Bulma and Baby Trunks with my baby boy, and it just so happened that his age of six months worked out around the time that the cherry blossoms were blooming. As seen in the DragonBallZ: First Broly Movie where the characters are having a hanami karaoke picnic, I did a shoot with my baby and husband during our own little hanami! I hope you enjoy. It was really fun!
Friday, March 18, 2011
Donate for Japan and Prayers from Cosplayers
We are all very busy people, and not all of us have a lot of money, but I wanted to share a few ways that you can help Japan and send your encouragement. A well known Japanese cosplayer created the website Prayers from Cosplayers. It serves as a means to uplift the cosplayers in the Japanese community and let them know that cosplayers around the world are thinking of them, and sending words of encouragement and support. If you are a cosplayer, and you have the time and ability to spend pulling your costume out of storage, putting on your makeup, setting up a place to photograph yourself, and submitting a photo, please participate! The beautiful thing about the human spirit is that we rally together behind one another when there is a disaster and others are suffering. Not all of us may be able to provide fiscal support, but for those of you who can offer support in strength and spirit and camaraderie, please take the time to take a photo of yourself with a sign expressing your best wishes for Japan.


For those of you who are able to donate, please donate to the Japanese RedCross! The American Redcross has only donated 10million of the 47million they have collected since the disaster. Japanese RedCross.
However, if you can only text a donation to American RedCross you can text 90999 with the word "REDCROSS" to donate $10 to the Japanese relief fund of the American RedCross. You will receive confirmation from American Redcross for your donation, and they will explain that you will receive the charge for the donation on your next phone bill.
Lastly, Doctors without Borders provides aid in nearly 60 countries to people whose survival is threatened by violence, neglect, or catastrophe, primarily due to armed conflict, epidemics, malnutrition, exclusion from health care, or natural disasters. Doctors Without Borders provides independent, impartial assistance to those most in need. Doctors Without Borders reserves the right to speak out to bring attention to neglected crises, to challenge inadequacies or abuse of the aid system, and to advocate for improved medical treatments and protocols.
In the wake of recent disasters and catastrophe such as 9/11, Hurricane Katrina, Haiti's Earthquake, Chile, and now Japan, we must do our part as we always have in order to help our fellow man. If each person does even a little, we can all do a lot!
Tuesday, December 07, 2010
Farewell Precious One
Mid day, April 8th 1990, I stood outside of my farm house in Texas and watched with wide eyes as my cat Kiki was born. She was the first kitten born, and I was amazed. I was 9 years old. Today, December 6, 2010, She passed away in my arms. I was there when she took her first breath and squealed with life, and I was there when her last breath left her. 20 years of my life I have loved this cat, and she has been my best friend. I was so young when she was born, that it has seemed like she has always been around. I cannot describe the dread that I felt sitting in that vet office with my old sick cat, who couldn't hardly walk, talk, or eat anymore. I cannot describe the absolute horror and anguish I felt as I supported her little chin, and her body slackened. When the doctor moved her to the little silver exam table, and she was limp, I could only stroke her and sob and tell her how much I had loved her and thank her so earnestly for all the love she had given me. 20 years of love is a lot for a cat. Dearly departed one, I will miss you.
Sunday, September 26, 2010
Mermaid Melody Noelle & Lacus Clyne Cosplay For Sale!
I am sad to admit that The Zelda Project is having trouble putting together the funds needed for finishing up the costumes for the Gerudo Valley Photoshoot, as well as funding the shoot itself. So I am selling more costumes! Please head on over to Ebay and check out my Mermaid Melody costume!
There's a small part of me that always wanted to do a decent photoshoot with this costume, but I hated the wig so much that I never got around to it. Well, check it out if you are a fan of Mermaid Melody Pichi Pichi Pitch!
Proceeds of this costume sale go to funding The Zelda Project! If you enjoy what we do and want to help us out, but aren't interested in purchasing this costume, we have a donations page available as well.
Hopefully in the future we will be able to offer more to donators besides a listing in the credits of the videos and on the website. We would like to offer prints to donators, but we are afraid that could be considered selling something, and we aren't doing this to make a profit. What we do is solely for the creativity and joy of the project, and to share with other Zelda fans the vision that we have.
Friday, September 10, 2010
Tokyo Game Show!
I am a guest at the Tokyo Game Show this year! I'm really honored! This is the first year they are inviting cosplay guests, and I am selected as the United States cosplayer, and 1 other from Europe, and Asia are going to be there with me. Now, I honestly have no idea what I'll be doing. I've never gone to Tokyo Game Show. I've been a guest at plenty of conventions, which usually involve panels or speaking functions of some sort, perhaps contest judging, and internationally autograph signing. I am not sure if any of that is going on here, but I suppose we will see? They have not told me what my duties will be, but if any of you are going, let me know because I would LOVE to hang out!
I know its a little late in the game for warning everyone, but I've been kinda rushing around trying to prepare the costumes for the Gerudo Valley photoshoot and haven't had a ton of time for internetting! It would be extremely fun to meet up in a foreign country and have a cool hanging out experience!
I'll be promoting The Zelda Project of course, while I'm out there, and for the first time in almost half a decade, sporting my old Aeris getup!
Hope to see some of you there!
Tuesday, August 10, 2010
Kittens Needing Homes!
Saving Grace LA is an animal rescue group who I have been working with, is in need of donations for their volunteer group. go HERE: http://www.facebook.com/pages/Saving-Grace-LA/320815219810?ref=ts to learn how you can donate to help them pay for homeless animals food, medical, and other expenses!
My co-workers and I have been in the process of capturing the feral/stray cats around our factory, spaying/neutering them, and turning them over to a volunteer home that cares for feral cats and lets them live out their life in comfort and happiness. Last night (Sunday August 8th) My co-worker discovered that one of the cats we had recently spayed had left behind a litter of kittens near the factory. He took them home, and luckily they are about 3 weeks old so they can survive without their mother, but they need homes.
If you or someone you know in the SOUTHERN CALIFORNIA area (or are nearby and willing to drive) is interested in adopting one of these kittens, please email me at adella @ adellacosplay.com. I want to find a home for these babies with a good hearted person!
Please go to my Facebook page: http://www.facebook.com/pages/Adella/175563076878 to repost to your Facebook!